Printed from: www.cameronfinancial.com
New Law Requires Notification of Medicare Observation Status
A new law effective August 6, 2016, requires hospitals to notify Medicare patients who are treated for more than 24 hours under observation status, which is considered outpatient care even if it includes one or more overnight stays in a hospital room. The distinction between outpatient and inpatient status can make a big difference in the services that Medicare covers and could increase a patient's out-of-pocket costs.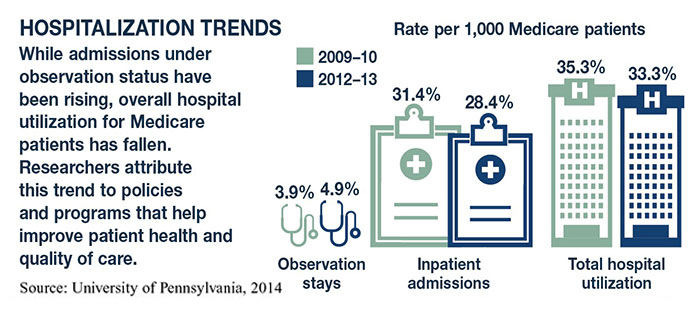 Skilled Nursing Facility Eligibility
The most significant impact is typically on patients who require post-hospital care in a skilled nursing facility (SNF). To qualify for up to 20 days of SNF rehabilitation care under Medicare, a beneficiary must first spend three consecutive nights in a hospital as an inpatient, and a doctor must recommend SNF treatment. Nights under observation do not count toward the three-day minimum, so a patient who spends one night under observation and two nights as an inpatient would not qualify for SNF care.
Part A or Part B?
Medicare Part A pays inpatient hospital charges (including prescription drugs) above the annual deductible ($1,288 in 2016), with no coinsurance for the first 60 days. Outpatient observation care is covered under Medicare Part B after meeting the annual deductible ($166 in 2016), with 20% coinsurance for each service and no cap on total expenditures. Physician services in the hospital are also covered under Part B. Drugs administered during observation care might be covered under Medicare Part D, but this typically requires a separate deductible and copayment.
Although the Part A deductible is higher, Part B copays can add up. A government study found that 6% of observation care patients paid more than the inpatient deductible. Even so, observation care was generally more cost-effective for patients than short inpatient care (less than two nights), except for certain heart and circulatory treatments. It was always more cost-effective for the Medicare program.1
The NOTICE Act
The Notice of Observation Treatment and Implication for Care Eligibility (NOTICE) Act requires that hospitals provide detailed oral and written notice in "plain language" to any patient who receives outpatient observation services for more than 24 hours. The notice must be provided within 36 hours of the time the patient begins receiving such services, or upon discharge, whichever occurs sooner.
Although the law is a step in the right direction for consumers, it does not provide a formal legal recourse for patients. If you need rehabilitation in a skilled nursing facility, your doctor may be able to change your status before you are discharged from the hospital. You also have the right to appeal hospital and SNF bills to Medicare. For more information, see medicare.gov/Pubs/pdf/11435.pdf.
1) Department of Health and Human Services, 2013 (2012 data, most recent available)

The information in this article is not intended as tax or legal advice, and it may not be relied on for the purpose of avoiding any federal tax penalties. You are encouraged to seek tax or legal advice from an independent professional advisor. The content is derived from sources believed to be accurate. Neither the information presented nor any opinion expressed constitutes a solicitation for the purchase or sale of any security. This material was written and prepared by Emerald. Copyright 2016 Emerald Connect, LLC.